I've gathered a list of funds, kickstarters, custom t-shirts, mix-tapes etc for charity.
"Even though we currently live in Nicaragua we do stay up to date on the daily news in the US. We were truly shocked and hurt, as everyone else was around the world, by the bombings that occurred in Boston yesterday. We wanted to do something about it right away even though we are 2,273 miles away from Boston. We figured that we can still make a difference through donating a large portion of the money from some of our bracelets to the new foundation The One Fundcreated by Massachusetts Governor, Deval Patrick, and Boston Mayor, Tom Menino. If you buy any of the following bracelets this week we will donate $3, $5 or $10, relative to the price of the bracelet, to The One Fund on your behalf"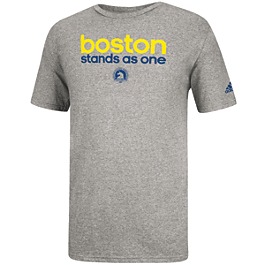 "adidas commends the City of Boston, first responders, the Boston Athletic Association (BAA) and all volunteers for their reaction to the tragic events on April 15. To honor this spirit and to support those who were affected, we will donate 100% of all proceeds from the Boston Tribute Tee to The One Fund Boston."
4/23 they wrote this: "I  got to be honest.  I think the only people who truly understand how powerful the Stoolies are are other Stoolies.  We put these donation shirts on sale at 9:50pm on a Saturday Night.  By the morning we'd raised 10K.   I reblogged them at noon.  Within an hour the shirt company who runs the store was red flagged and shut down by their bank because money was coming in too fast for it to be real.  But not before Stoolies had raised an additional 15K bringing the the total to 25K for the cause.   I'm talking 15K in 45 minutes!   I've been screaming at people trying to get the store back online all day, but due to it being a Sunday and general incompetence I couldn't get it done.  It sucks because I know we would have been over 100K by now.  So for all those looking to buy the shirts that ABC World News just featured please be patient.   The store will be back online tomorrow at 10am and we'll be full speed ahead."
"Allston Pudding's Marathon Relief Benefit Mixtape is available now. For a donation of 1 dollar or more, this 130 song compilation is all yours. 10 dollars or more and be entered to win an Allston Pudding sweatshirt. All proceeds will go to benefit The One Fund Boston, so please donate, listen, and share this link. Enormous thanks to all who contributed to this. Boston Music 4ever.
http://allstonpudding.com/allston-pudding-marathon-relief-mixtape/"
We are donating at least $7.50 of every We Are Boston shirt (70% of all proceeds less order shipping/management) from the sale of this shirt to One Fund Boston.
Like good ol' wicked awesomeness, these HealBoston tees were
designed, manufactured and printed right here in the USA. All proceeds go to One Fund Boston.
This fundraising campaign is simple: preorder a "Hearts for Boston" pin, patch or t-shirt designed by local artist Dan Blakeslee as both a symbol of solidarity for the victims and a concrete measure of financial support for the Richard family.
From r/boston (reddit.com):
General Funds
---
Specific Funds
I will gather benefit shows too. In the meantime here's this.
I love you, Boston. Here it is your moment of Zen: